About Haunted Bachelor's Grove Cemetery and its Ghosts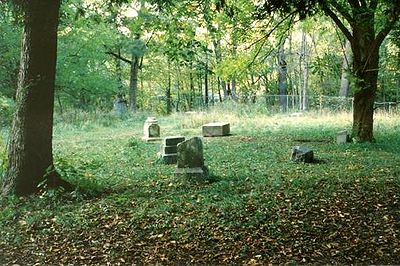 Bachelor's Grove Cemetery
Bachelor's Grove is considered the most haunted cemetery in the Midwest. Located deep in the forest, its remote location fosters your imagination. The name comes from its origin as a cemetery for local bachelors. The cemetery stopped being used in 1965, at least as far as adding new tenants goes. But a few have found other uses for the cemetery. The nearby lagoon is said to be a favorite dumping ground for mobsters to dump their victims. Starting in the 1950s, satanic cults began performing animal sacrifices here. Vandals have also had their fun destroying gravestones and digging up bodies. So, it's no wonder that Bachelor's Grove has stopped being a place where the dead can rest.
Summary of the Haunting
A spectral farmer with a horse and plow are seen walking nearby. In the 1870s, his horse spooked and dragged him into the pond. Both drowned and are now doomed to roam the grounds and never find peace.
A two-headed phantom wonders between the headstones surrounded by twinkling blue lights. It is believed he is the spirit of a deformed man kept hidden away by his parents and buried secretly in Bachelor's Grove.
A large Victorian farmhouse with a wraparound porch complete with porch swing and a white picket fence appears out of nowhere. Locals believe that the ghostly house is where the caretaker of the cemetery once lived until he killed his family and then hung himself nearby.
Blue, red, white and orange orbs float throughout the cemetery.
A woman called the Madonna of Bachelor's Grove is seen at night dressed in white carrying her baby. She is also called by locals as Mrs. Rogers.
Another woman in white also roams the grounds. She was killed by her boyfriend spends her afterlife tracking down young men and beheading them in revenge.
Phantom cars and trucks race around the cemetery and seem to enjoy running motorists from the road.
The famous Bachelor's Grove Madonna photograh.
Paranormal Investigations
Books and Articles about Bachelor's Grove Cemetery
Videos about Bachelor's Grove Cemetery
For More Information
Bachelor's Grove Cemetery is located in Rubio Woods Forest Preserve in Midlothian, Illinois.