Crescent Hotel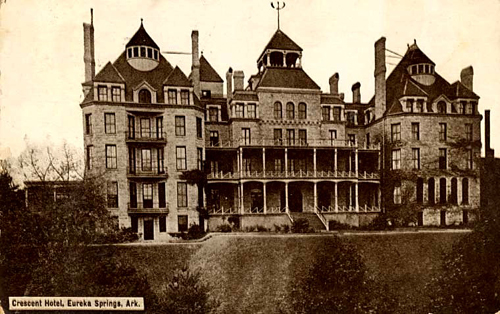 The Crescent Hotel was built in the 1800s. When it couldn't sustain itself, the hotel closed and was converted into the Crescent College and Conservatory for Young Women. The school closed in 1924. Ten years later, it repoened as a junior college, which only managed to stay open for four years before being converted into a controversial health resort in the late 1930s. When the owner went to prison for mail fraud, the health resort closed. In 1946, the building was restored and reopened as a hotel, which it remains to this day.
Summary of the Haunting
Crescent Hotel has a website on the ghosts which includes videos and pictures. Some of the paranormal activity experienced at the Crescent Hotel includes:
The ghost of Michael, an Irish stonemason who fell from the room and died near Room 218 in 1885, likes to play tricks with the lights and TV and pound on the walls.
A ghostly nurse is seen on the third floor.
Doors slamm shut.
People report being shaken awake at night
A Victorian gentleman is seen in the lobby near the stairs and in the lobby bar.
Ghosts have been seen in Rooms 202 and 424.
Doctor Baker's ghost (who ran the health resort) is seen in the old recreation room and near the first-floor stairway.
Paranormal Investigations
Books and Articles
Videos
Ghost Tours
Crescent Hotel Ghost Tours is a privately-owned tour company and not affiliated with the hotel.
For More Information
Crescent Hotel
75 Prospect Ave
Eureka Springs, AR 72632
(877) 342-9766
concierge@crescent-hotel.com