Eastern State Penitentiary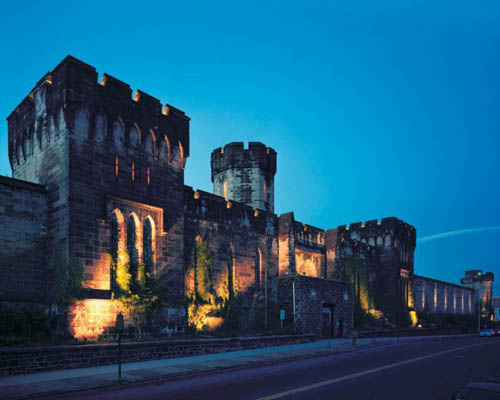 Photo courtesy of Eastern State Penitentiary
Eastern State Penitentiary is a former prison in Philadelphia that was in use from 1829 until 1971. During its use, it housed notorious criminals such as Al Capone and Willie Sutton. It is currently a historical landmark and a museum. It is listed on Time magazine's list of the Top 10 Haunted Places and NY Daily News's list of the Most Haunted Places on Earth.
Summary of the Haunting
Shadowy figures in the guard tower and cellblocks 6 and 12
Evil high-pitched cackling in cellblock 12.
Mysterious faces in cellblock 4.
The controversial footage caught by

Ghost Hunters

seen below.
Paranormal Investigations
Eastern State Penitentiary has been featured on Fox Television's World's Scariest Places, TLC's America's Ghost Hunters, SyFy Channel's Ghost Hunters and Ghost Hunters Academy, MTV's FEAR, and Travel Channel's Most Haunted Live and Ghost Adventures. Links to some of these and other investigations include:
Books and Articles
Videos
For More Information
Eastern State Penitentiary
2027 Fairmount Avenue
Philadelphia, PA 19130
(215) 236-3300
info@easternstate.org