Gettysburg, Pennsylvania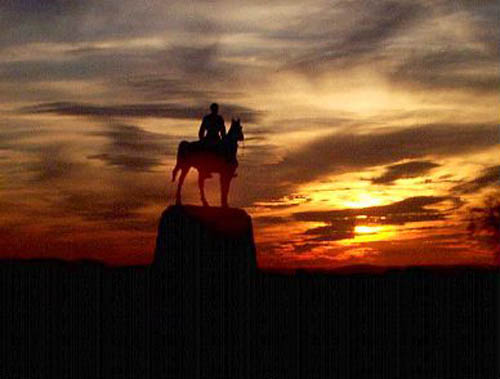 Photo courtesy of National Park Service
The battle of Gettysburg began on July 1, 1863 and lasted only three days. When it ended on July 3, 1863, of the approximately 160,000 soldiers who fought at Gettysburg, 7,863 were killed, 27,224 were wounded, and 11,199 were captured or missing. It is considered the bloodiest battle of the Civil War. (Some inaccurately state that over 51,000 men died at Gettysburg. This comes from seeing sites list "51,112 casualties." In this case "casualties" means "someone injured, killed, captured or missing in a military engagement," not the number that died.)
Gettysburg is listed on Time magazine's list of the Top 10 Haunted Places.
Summary of the Haunting
With so many locations reported to be haunted, I know that I'm missing a few places. However, here is a few of the most notoriously haunted locations:
Devil's Den: A barefoot man seen wearing a floppy hat and ragged clothing.
Cashtown Inn: Orbs and skeletal figures appear in pictures, lights turn off and on, and doors lock and unlock themselves.
Gettysburg Hotel: A female is seen dancing in the hotel's ballroom and the ghost of Union soldier James Culbertson (Company K, Pennsylvania Reserves) is believed to roam here.
Baladerry Inn: Confederate soldiers are believed to haunt this former Civil War hospital.
Herr Tavern: Another former civil war hospital
Soldier's Orphanage Cellar:
Check out the Gettysburg BattleCam and do you own investigation!
Interesting Fact
According to legend, the soldiers of the 20th Maine saw the ghost of George Washington on their way to the battle of Gettysburg.
Paranormal Investigations
Books and Articles
Videos
Gettysburg Ghost Tours
Gettysburg Tour Center
Blue Moon Tours in Gettysburg
Ghostly Tales of Gettysburg Ghost Tours
Ghost Tour of Haunted Historic Gettysburg
Haunted Gettysburg Tours
Sleepy Hollow of Gettysburg Candlelight Ghost Tours
Ghosts of Gettysburg
Gettysburg Ghost Tours
For More Information
Gettysburg National Military Park
1195 Baltimore Pike, Suite 100
Gettysburg, PA 17325
Visitor Information: (717) 334-1124 ext. 8023