Lemp Mansion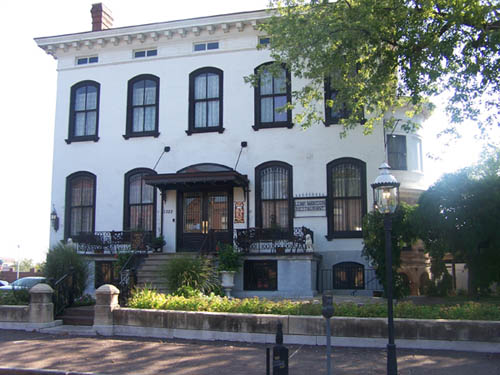 Photo courtesy of The Lemp Mansion Restaurant & Inn
Lemp Mansion is listed on Travel Channel's Most Terrifying Places in America and was listed in a November 1980 issue of Life magazine as "one of the most haunted houses in America."
The Lemp Mansion was purchased in 1876 by William J. Lemp. His father had started a brewery near the home. The house had been built by Jacob Feickert, Julia Lemp's father, in 1868. Lemp expanded the house adding a radiator system, open-air elevator, Italian marble mantle and more. It was intended to be a place of comfort, but comfort was hard to find there.
The first tragedy occurred when Frederick Lemp, William's favorite son, died of heart failure in 1907 at the tender age of twenty-eight. On January 1, 1904, Frederick Pabst—William's closest friend and his daughter's husband—died. Just six weeks later, on February 13, William ate breakfast then went upstairs to his bedroom and shot himself in the head with his revolver.
William J. Lemp, Jr. was not required to take over the reins and run the family brewery. But Junior was more concerned with spending money then earning it. His wife, Lillian, had the same problem. Lillian was nicknamed the "Lavender Lady" because she liked to dress in lavender clothes. The two produced one child, William III, but divorced in 1906 in a very public trial. The same year, William's mother died of cancer.
In 1920, Elsa Lemp Wright, William Jr.'s sister, shot herself in the mansion. She had just reconciled with her estranged husband, so there was some speculation that that her death was not a suicide. When her brother William heard the news, all he said was, "That's the Lemp family for you."
The final blow to the brewery came with Prohibition. William closed the brewery doors without giving any notice to his employees. Then, he sold the building to the International Shoe Company in 1922. That same year, on December 29, William shot himself it the former brewery office.
William's brother, Charles, continued to live at the house as did William III, who died in 1943 of a heart attack at the age of forty-two. Charles continued to live at the Lemp Mansion until May 10, 1949 when he became the fourth member of the family to kill himself. He left a signed suicide note that said, "In case I am fond dead, blame it on no one but me."
Edwin, the last surviving brother of William J. Lemp, had his brother cremated and buried them on his Kirkwood estate where he lived in seclusion. Edwin sold the mansion and it was turned into a boarding house, but it had trouble keeping tenants. In 1975, Dick Pointer and his family purchased it and turned it into a restaurant and bed and breakfast.
With all these deaths and tragic history of the Lemp family, its no big surprise that not all of them have found the peace that elluded them in life in the afterlife.
Summary of the Haunting
Doors slam on their own.
A piano in the bar is heard when no one is playing it.
Ghostly barking.
Strange knocks are heard.
Unseen footprints are heard throughout the house.
Workers reported that they felt they were being watched, tools vanished and hearing odd sounds. Many would quit during the renovations rather than work at the mansion.
Glasses lift off the bar and fly through the air.
Doors lock and unlock by themselves.
A spirit dressed in lavender is seen walking through the grounds.
Paranormal Investigations
Books and Articles
Videos
For More Information
Lemp Mansion
3322 DeMenil Place
St. Louis, MO 63118
(314) 664-8024
lemp1964@yahoo.com