Most Haunted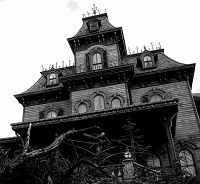 One of the reasons I created this site was I wanted to create a source of accurate information about haunted locations. Through my research, I have found many places exaggerate their claims or create false backgrounds to justify their ghosts. It makes for a better story (and sells rooms, tickets or whatever else) but that doesn't make it right.
These pages will be expanding and growing and I'll be adding more and more categories as time goes on, so you may want to check back from time to time. I will eventually be adding sections on bars, restaurants, battlefields, cemeteries and more.
On each of the pages, I've tried to include a variety of information. This includes, whenever possible, the following:
Some of things you can find on these pages include:
A brief history of the location.
A summary of the haunting.
Cool facts about the location.
Information about any false claims the location makes.
Links to any paranormal investigations done.
Links to books and articles about the location.
Videos about the haunting.
Tour information (if available).
Contact information for the location.
Right now, I have the locations divided into the following groups: