Children's Movies about Ghosts
Okay, there are not a whole lot of children's movies about ghost, but there are more then you might think. All of these movies are rated G or PG and are not extremely scary.
Blackbeard's Ghost (1968)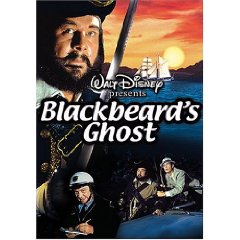 Award-winning actor Peter Ustinov stars in this hilarious fantasy as the ghost of the legendary pirate Blackbeard. The once blackhearted scoundrel materializes in a small New England town, cursed to wander in limbo until he performs a good deed. He gets his chance when he decides to help a local college track team ... that hasn't a ghost of a chance of winning! Blackbeard finds himself full of team spirit, and dispensing his own brand of invisible coaching ... in this warmhearted comedy that will have you laughing from his first fade-in to his final fade-out!. Find it on Wal-Mart
or Amazon.com
.
Casper (1995)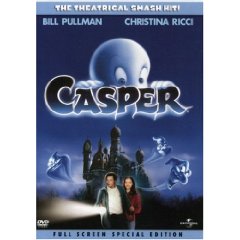 From director Brad Silberling and Steven Spielberg's Amblin Entertainment comes a live-action fun house ride filled with laughter, excitement and ghostly surprises. "Ghost therapist" Dr. James Harvey (Bill Pullman) and his daughter Kat (Christina Ricci) arrive at drafty, old Whipstaff Manor. Its greedy owner, Carrigan Crittendon (Cathy Moriarty), has hired Dr. Harvey to exorcise the house's apparitions: a friendly but lonely young ghost named Casper, who's just looking for a friend, and his outrageous uncles Stretch, Stinkie and Fatso (The Ghostly Trio). If the plan works, she and Dibs (Eric Idle), her partner-in-slime, can get their hands on the manor's fabled treasure. Meanwhile, "Casper" has found a kindred spirit in Kat, but The Ghostly Trio will not tolerate "fleshies" in their house. Available from both Wal-Mart
and Amazon.com
.
Casper: A Spirited Beginning (1997)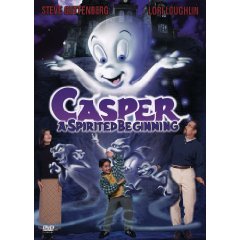 Catch The Spirit! A spook-tacular blend of live-action and state-of-the-art animation, "Casper, A Spirited Beginning" will conjure up laughs and boost your spirts! Because he never finished his training to become a terrifying ghost, Casper has incurred the wrath of Kibosh, the king of spooks, (voiced by James Earl Jones). But the friendly little ghost soon realizes that he may have enough power to save a town from the wrecking ball and reunite a father and son, filling them with his spirit of fun, adventure and everlasting friendship. Find it on DVD at Wal-Mart
or Amazon.com
.
The Haunted Mansion (2003)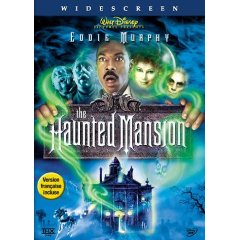 Check Your Pulse At The Door... If You Have One. From the studio that brought you "Pirates Of The Caribbean"... here's the fright-filled comedy adventure loaded with hair-raising laughs and eye-popping special effects! Eddie Murphy ("Daddy Day Care") stars as a real estate agent whose family comes face to face with 999 grim, grinning ghosts in the creepy old Gracey Manor! Now, with the help of supernatural psychic Madame Leota (Jennifer Tilly - "Liar, Liar"), they must hilariously battle to break the mansion of its age-old curse... and do it before the clock strikes 13. Find the Blu-ray from Wal-Mart
, DVD from Wal-Mart
, Blu-ray on Amazon.com
or DVD on Amazon.com
.
I Downloaded a Ghost (2004)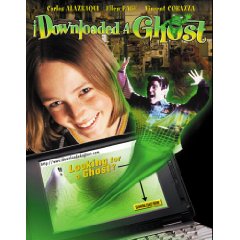 While surfing the net for ideas for the neighborhood haunted house contest, twelve year old Stella accidentally downloads a real ghost from a crazy website. Far from scary, her ghost is a real pain Stella can't get rid of. Find it at Wal-Mart
or Amazon.com
.
Other Children's Ghost Movies
Casper Meets Wendy (1998)

A Christmas Carol (2009)

Susie Q (1996)

The Watcher in the Woods (1981)