Comedy Movies about Ghosts
It is not always easy to take a dark subject such as life after death and make it humorous. Yet, there are a suprising number of very funny movies about ghosts. Here are a few of them.
Beetlejuice (1988)

Director Tim Burton and star Michael Keaton teamed up for this popular black comedy about a young couple (Geena Davis and Alec Baldwin) whose premature death leads them to a series of wildly bizarre afterlife exploits. As ghosts in their own New England home, they're faced with the challenge of scaring off the pretentious new owners (Catherine O'Hara and Jeffrey Jones), whose daughter (Winona Ryder) has an affinity for all things morbid. Keaton plays the mischievous Beetlejuice, a freelance "bio-exorcist" who's got an evil agenda behind his plot to help the young undead newlyweds. The film is a perfect vehicle for Burton's visual style and twisted imagination, with clever ideas and gags packed into every scene. Beetlejuice is also a showcase for Keaton, who tackles his title role with maniacal relish and a dark edge of menace. Available as Blu-ray from Amazon.com
, or DVD from Amazon.com
.
The Ghost and Mr. Chicken (1966)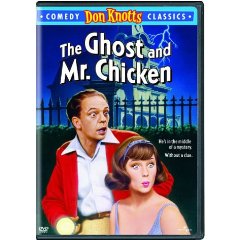 Don Knotts stars as a timid typesetter who hasn't a ghost of a chance of becoming a reporter - until he decides to solve a murder mystery and ends up spending a fright-filled night in a haunted house! Figuring the answers to the mystery lie in the old Simmons mansion, Luther Heggs (Knotts) visits the estate at the witching hour of midnight. Certain he's seen a ghost, Luther writes a story which makes front page news and brings on a libel suit from the mansion's owner. When the trial judge orders an investigation and no apparition appears – Luther is branded a fraud. That is, until he and his devoted girlfriend team up to uncover the mystery of the hauntings and the true murderer in this timeless comedy classic. Available from Amazon.com
.
The Ghost and Mrs. Muir (1947)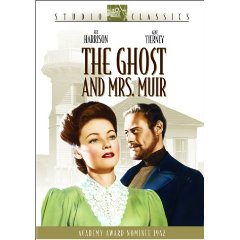 Recent widow Lucy Muir (Tierney) rents a house by the ocean, which turns out to be haunted by a cantankerous sea captain (Harrison). Although difficult at first, their friendship blossoms and the captain even "ghostwrites" an autobiographical book to bring in money for her. Eventually, the unlikely pair fall in love, only to be challenged when a flesh-and-blood suitor (George Sanders) appears on the scene. With its heartwarming screenplay and Oscar nominated cinematography, "The Ghost and Mrs. Muir" is a moving classic in Hollywood's best style. Find it at Wal-Mart
or Amazon.com
.
Ghost Town (2008)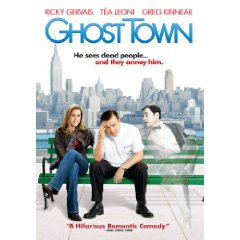 In the comedy "Ghost Town", Bertram Pincus (Ricky Gervais) is a man whose people skills leave much to be desired. When Pincus dies unexpectedly, but is miraculously revived after seven minutes, he wakes up to discover that he now has the annoying ability to see ghosts. Even worse, they all want something from him, particularly Frank Herlihy (Greg Kinnear), who pesters him into breaking up the impending marriage of his widow Gwen (Tea Leoni). Available as a blu-ray from Amazon.com
, and a DVD from Amazon.com
.
Ghostbusters 1 and 2 (1984 & 1989)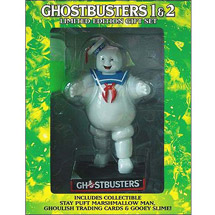 When college profs Peter Venkman (Bll Murray), Ray Stantz (Dan Aykroyd), and Egon Spengler (Harold Ramis) lose their university jobs, they decide to go freelance, de-haunting houses in a new ghost removal service. As soon as they open their doors, their first order of business becomes saving beautiful cellist Dana Barrett (Sigourney Weaver) and nerdy Louis Tully (Rick Moranis), who've inadvertently opened the gates of hell...right in their own apartment building! The Paratroopers of the Paranormal swing back into hilarious action in "Ghostbusters 2" when an underground river of ghoulish goo threatens to rot the Big Apple to the core. Blu-ray from Wal-Mart
and DVD from Wal-Mart
. Amazon.com
offers it with a commemorative book.
The Haunted Mansion (2003)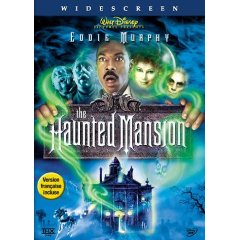 Check Your Pulse At The Door... If You Have One. From the studio that brought you "Pirates Of The Caribbean"... here's the fright-filled comedy adventure loaded with hair-raising laughs and eye-popping special effects! Eddie Murphy ("Daddy Day Care") stars as a real estate agent whose family comes face to face with 999 grim, grinning ghosts in the creepy old Gracey Manor! Now, with the help of supernatural psychic Madame Leota (Jennifer Tilly - "Liar, Liar"), they must hilariously battle to break the mansion of its age-old curse... and do it before the clock strikes 13. Find the Blu-ray at Wal-Mart
, DVD at Wal-Mart
, Blu-ray on Amazon.com
or DVD on Amazon.com
.
Heart Condition (1990)


A racist LAPD officer loses his girlfriend to a black lawyer. When the lawyer is murdered, his heart is transplanted into the officer, who has just suffered a heart attack. When the officer awakens from the transplant, he finds the lawyer's ghost is his constant companion. Find it at Wal-Mart
or Amazon.com
.
High Spirits (1988)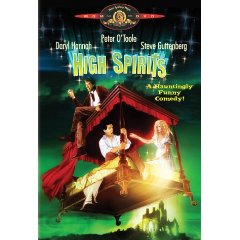 Daryl Hannah, Peter O'Toole and Steve Guttenberg star in this gleefully ghoulish comedy sparkling with romance and rollicking with supernatural special effects. Written and directed by Neil Jordan ("Interview With The Vampire") and co-starring Beverly D'Angelo, Jennifer Tilly, Peter Gallagher and Liam Neeson, "High Spirits" is the most fun you'll have in this world...or the next! Impoverished Peter Plunkett (O'Toole) hatches the perfect plan to save his debt-ridden Irish castle: lure American tourists by advertising the place as haunted. But when Peter and his staff don sheets and chains to go a-haunting, they scare up more than paying guests... they arouse the real ghosts of Castle Plunkett! And when American tourist Jack (Guttenberg) spies a gorgeous ghost named Mary (Hannah), it's love at first sighting. Now all Jack has to worry about is Mary's murderous spook of a husband...and their 200-year age difference! Available from Amazon.com
.
Just Like Heaven (2005)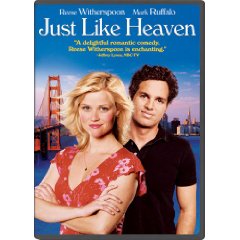 Reese Witherspoon and Mark Ruffalo star in the funny romantic comedy "Just Like Heaven," a story of a San Francisco architect falling for the spirit of a beautiful woman. This DVD is the "feel good" film of the year and the 'must-own' for romantic-comedy and Reese Witherspoon fans. Available as a Amazon.com
Kiss Me Goodbye (1982)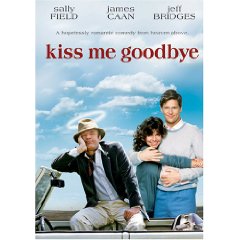 James Caan is tap-dancing ghost. Jeff Bridges is the very much alive stuffed shirt. Together, they make the perfect match for Sally Field, the woman caught between both men in this uproarious romp through the supernatural. The spooky fun begins when Kay Villano is one week away from marrying the serious Dr. Rupert Baines, and an uninvited guest appears on the scene; the ghost of Kay's dead, but oh-so-debonair husband Jolly. Kay's predicament is made worse because no one else can see or hear Jolly but her. The celestial shenanigans are non-stop as the three superstars hysterically battle out an odd eternal triangle with deliciously new dimensions. The DVD is available on Amazon.com
.
Over Her Dead Body (2008)

Eva Longoria Parker (TV's "Desperate Housewives") stars in this devilishly funny romantic comedy about holding onto the ones you love...even after you're gone. When Kate (Longoria Parker) is killed by an ice sculpture on her wedding day, her fiance Henry (Paul Rudd, "Knocked Up") gives up on romance until he falls for the beautiful psychic (Lake Bell, TV's "Boston Legal") who's supposed to be helping him move on. But Kate's not having it, and she's going to do whatever it takes to send their budding relationship six-feet-under. Available as either a Blu-ray
or DVD from Wal-Mart
.
Scary Movie (1 – 4) (2000, 2001, 2003, 2006)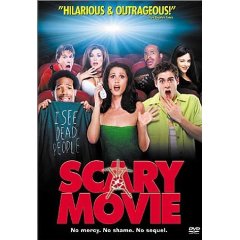 This hilarious, must-see comedy smash places Carmen Electra (TV's "Battlebots"), Marlon Wayans ("Senseless"), Jon Abrahams ("Boiler Room," "The Faculty"), and some of today's hottest young stars in a wickedly funny send-up of today's most popular horror movies! A familiar-looking group of teenagers find themselves being stalked by a more-than-vaguely recognizable masked killer! As the victims begin to pile up and the laughs pile on, none of your favorite scary movies escape the razor-sharp satire of this outrageously funny parody! With Shannon Elizabeth, Shawn Wayans, and Cheri Oteri adding sidesplitting performances, there's nothing to fear in this scary movie... unless you're afraid of laughing too much. For the best deal, get the Scary Movie Triple Pack (which is only a dollar or two more than the individual movies for the first three movies) from Amazon.com
. You can also find the original movie on blu-ray from Amazon.com
. Scary Movie 4 is available on DVD from Amazon.com
.
Scrooged (1999)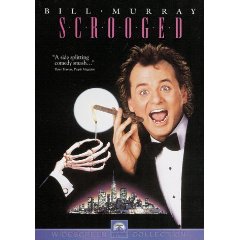 High-spirited high jinks on Christmas Eve put Frank Cross (Bill Murray) in a ghostly time warp in this hilarious take-off of Charles Dickens' "A Christmas Carol." Cross, who has made the meteoric rise from the depths of the mailroom to TV network president, is mean, nasty, uncaring, unforgiving and has a sadistic sense of humor - perfect qualities for a modern-day Scrooge. Before the night is over, he'll be visited by a maniacal New York cab driver from the past, a present-day fairy who's into pratfalls and, finally, a ghoulish seven-foot-headless messenger from the future. Available from Wal-Mart
or Amazon.com
.
Other Comedy Ghost Movies
Blithe Spirit (1945)

The Canterville Ghost (1985)

The Canterville Ghost (1944)

The Frighteners (1996)

The Ghost Breakers (1940)
Ghost Dad (1990)

The Ghost Goes West (1935)

The Ghost in the Invisible Bikini (1966)

Heart and Souls (1993)

Topper (1937)

Topper Takes a Trip (1938)

Topper Returns (1941)