Horror Movies about Ghosts
American Haunting (2006)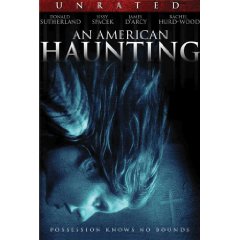 Based on the true story of "The Bell Witch Of Tennessee," about which thirty-five books have been written, "An American Haunting" tells the story of a spirit which attacked the wealthy and highly respected Bell family for four years, eventually causing the death of one of its family members. In 1818, the family began to experience disturbances on their property. At first, slight, unexplained noises, but the spirit began to grow, becoming aggressive and singling out the father, John, and his only daughter Betsy. The family desperately searched for the cause of the spirit in the hope of finding a way of defeating it, but the spirit continued its brutal assault. It developed voices and began speaking to the family, but refusing to say why it was there. Then, finally it pronounced a death sentence on John. Within a year, he was dead. Shortly, thereafter, the spirit left the family in peace, but never the same. It would not be until years later that we would be taken back to the terrible night the spirit was born and find out the horrific truth about its nature and origin. Available from Wal-Mart
or Amazon.com
.
The Amityville Horror (1979 and 2005)
Although it claims to be based on a true story, the movie is even farther from the truth then the book (and that is saying something). The original 1979 version stars James Brolin, Margot Kidder and Rod Steiger. The more recent 2005 version stars Ryan Reynolds and Melissa George. The movies are entertaining, provided you don't live in Amityville, New York, and are constantly being harassed—not by ghosts but by fans of the movie who trespass in an effort to see the original house. You can find the 1979 version on Blu-ray at Wal-Mart
, DVD at Wal-Mart
, blu-ray from Amazon.com
, or DVD from Amazon.com
. If you want the original and the two sequels, I'd recommend buying the gift set which includes all three movies plus a bonus disc. It is available from Wal-Mart
and Amazon.com
. The 2005 version is also available from Wal-Mart
and Amazon.com
.
Of course, if you're interested in the Amityville Horror, check out Amityville: Horror Or Hoax? (Full Frame)
and History's Mysteries: Amityville - The Haunting
from Wal-Mart.
The Blair Witch Project (1999)

Now prepare for a motion picture experience unlike anything you've ever seen, heard, or feared before: "The Blair Witch Project" follows a trio of filmmakers on what should have been a simple walk in the woods...but quickly becomes an excursion into heart-stopping terror. As the three become inexplicably lost, morale deteriorates. Hunger sets in. Accusations fly. By night, unseen evil stirs beyond their campfire's light.. By day, chilling ritualistic figures are discovered nearby. As the end of their journey approaches, they realize that what they are filming now is not a legend...but their own descent into unimaginable horror. Available from Wal-Mart
or Amazon.com
. The blu-ray can also be found from Wal-Mart
.
Book Of Shadows: Blair Witch 2 (2000)
After spending a night in the Black Hills of Burkittsville, Maryland, four young fans of the original "Blair Witch" movie descend into a nightmare realm of murder, madness and perception-bending supernatural horror. Wal-Mart
or Amazon.com
Candyman (1992)
A children's ghost story comes to terrifying life in this gut-wrenching thriller about a graduate student whose research into modern folklore summons the spirit of the dead. Helen Lyle (Virginia Madsen) laughs when she interviews college freshmen about their superstitions. But when she hears about Candyman, a slave spirit with a hook hand who is said to haunt Chicago's notorious Cabrini-Green housing project, she thinks she has a new twist for this thesis. Braving the gang-ridden territory to visit the site of a brutal murder, Helen arrogantly assumes Candyman can't really exist...until he appears, igniting a string of terrifying, tragic slayings. But the police don't believe in monsters, and they charge Helen with the grisly crimes. Only one person can set her free: "Candyman." Available from Wal-Mart
and Amazon.com
.
The Changeling (1980)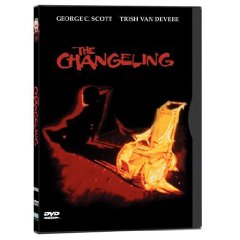 Here is an award-winning feature that boldly mixes a frightful ghost story with a great suspense plot and keeps you guessing all the way. George C. Scott and Trish Van Devere star in a thriller that challenges the viewer to solve its mystery. It's a haunted-house adventure complete with seances, nocturnal grave-diggings, ghostly spirits, and an ancient puzzle jealously guarded by a devious man (Academy Award winner Melvyn Douglas). Scott is splendid as the man who becomes an unwilling instrument of a ghost's revenge and learns to trust no one. Eerily entwining a detective story with the mystery of the supernatural, "The Changeling" delivers solid entertainment and a frightening good time. Available from Wal-Mart
and Amazon.com
Ghost Story (1981)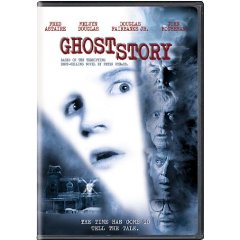 Put together a gloomy New England house, a dark night and four of America's legendary leading men and you have all the ingredients for the classic "Ghost Story," a spellbinding motion picture based on the bestseller by Peter Straub. Co-starring Patricia Neal, "Ghost Story" is about the Members of the Chowder Society: Fred Astaire, Melvyn Douglas, Douglas Fairbanks, Jr. and John Houseman, who get together each week to share tales of horror. Soon, however, a secret terror invades the group, and one by one, they die mysteriously because of a real life ghost story that is part of their past. Available from Wal-Mart
or Amazon.com
.
The Haunting (1963)
No one lives in the 90-year-old Hill House. Or so it seems. But come in. Even if you don't believe in ghosts, there's no denying the terror of The Haunting. Robert Wise, whose started his directorial career with The Curse of the Cat People (1944), returned to psychological horror for this first screen adaptation of Shirley Jackson's The Haunting of Hill House. Four people (Julie Harris, Claire Bloom, Richard Johnson and Russ Tamblyn) come to the house to study its supernatural phenomena. Or has the house drawn at least one of them to it? The answer will unnerve you. Available from Amazon.com
.
The Haunting (1999)
In this edge-of-your-seat supernatural thriller featuring Hollywood's hottest stars, a study in fear escalates into a heart stopping nightmare for a professor and three subjects trapped in a mysterious mansion. For over a century, the dark and forbidding Hill House has sat alone and abandoned...or so it seemed. Intrigued by the mansion's storied past, Dr. Marrow (Liam Neeson) lures his three subjects - Theo (Catherine Zeta-Jones), Nell (Lili Taylor) and Luke (Owen Wilson) to the site for a seemingly harmless experiment. But, from the moment of their arrival, Nell seems mysteriously drawn to the house...and the attraction is frighteningly mutual. When night descends, the study goes horrifyingly awry as the subjects discover the haunting secrets that live within the walls of Hill House. Available from Amazon.com
or Wal-Mart
.
The Haunting in Connecticut (2009)
Based on a chilling true story, Lionsgate's "The Haunting In Connecticut" charts one family's terrifying, real-life encounter with the dark forces of the supernatural. When the Campbell family moves to upstate Connecticut, they soon learn that their charming Victorian home has a disturbing history: not only was the house a transformed funeral parlor where inconceivable acts occurred, but the owner's clairvoyant son Jonah served as a demonic messenger, providing a gateway for spiritual entities to crossover. Now, unspeakable terror awaits when Jonah, the boy who communicated with the dead, returns to unleash a new kind of horror on the innocent and unsuspecting family. Available as a a DVD from Wal-Mart
, blu-ray from Amazon.com
, or a DVD from Amazon.com
.
House (1986)
Horror novelist Roger Cobb is a man on the edge, reeling from his recent divorce, haunted by the mysterious disappearance of his young son and struggling with his new book about his traumatic experiences in Vietnam. But when he moves into the strange house left to him by his late aunt, Roger's precarious sanity comes under siege by nightmares of his dead war buddy, visits from a nosy neighbor and an onslaught of hideous creatures from another dimension. Horror has found a new home, and it's full furnished with murder, monsters and madness! William Katt ("the Greatest American Hero"), George Wendt ("Cheers"), Richard Moll ("Night Court") and Kay Lenz ("Stripped To Kill") star in this outrageously scary horror hit, produced by Sean Cunningham ("Friday The 13th") and directed by Steve Miner ("Warlock," "Halloween H20"). Available from Amazon.com
.
Poltergeist (1982)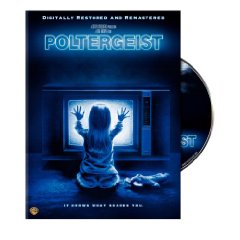 "They're here," playful at first...but not for long. A storm erupts, a tree attacks and little Carol Anne Freeling is whisked into a spectral void. As her family confronts horrors galore, something else is here too: a new benchmark in Hollywood ghost stories. Producers Steven Spielberg and Frank Marshall and director Tobe Hooper head the elite scream team of this classic. Find the 25th Anniversary: Deluxe Edition at 25th Anniversary Deluxe Edition Blu-ray from Wal-Mart
, a 25th Anniversary Deluxe Edition DVD from Wal-Mart
, Amazon.com on blu-ray
, or Amazon.com on DVD
.
Poltergeist II & III (1986)
This two disc set contains Poltergeist II and III. In the second movie, the sinister supernatural forces return in this heart-pounding other worldly thriller filled with "jolting, state-of-the-art special effects" (Leonard Maltin). The Freeling family (JoBeth Williams, Craig T. Nelson, Heather O'Rourke) settles into a new home following the annihilation of their former residence by terrifying visitors from the netherworld. But the spirits of the dead are still hell-bent on luring the family's clairvoyant daughter Carol Anne to "the other side"! In the third and final Poltergeist movie, they're back...again! And they're still looking for Carol Anne (Heather O'Rourke) in this riveting and climactic finale to the "Poltergeist" trilogy. Sent by her parents to live in a Chicago high rise with her aunt (Nancy Allen), uncle (Tom Skerritt) and cousin (Lara Flynn Boyle), Carol Anne faces demons more frightening than ever before, as they move from invading homes to taking over an entire skyscraper! "Ingenious and cleverly executed" (Los Angeles Times) special effects highlight this haunting chiller that takes terror to new heights! Available from Wal-Mart
and Amazon.com
.
The Shining (1980)
"Heeeeere's Johnny!" In a macabre masterpiece adapted from Stephen King?s novel, Jack Nicholson falls prey to forces haunting a snowbound mountain resort with a macabre history. Available as a Blu-ray from Wal-Mart
, a Special Edition DVD from Wal-Mart
, a blu-ray at Amazon.com
, or a DVD at Amazon.com
.
The Sixth Sense (1999)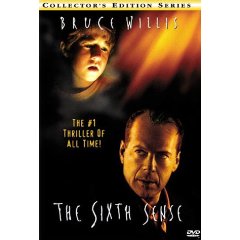 Hollywood superstar Bruce Willis ("Armageddon", "The Siege") brings a powerful presence to an edge-of-your-seat thriller from writer-director M. Night Shyamalan (Oscar(R)-nominee for Best Original Screenplay and Best Director) that critics are calling one of the greatest ghost stories ever filmed. When Dr. Malcolm Crowe (Willis), a distinguished child psychologist, meets Cole Sear (Oscar(R)-nominee Haley Joel Osment, Best Supporting Actor), a frightened, confused, eight-year-old, Dr. Crowe is completely unprepared to face the truth of what haunts Cole. With a riveting intensity you'll find thoroughly chilling, the discovery of Cole's incredible sixth sense leads them to mysterious places with unforgettable consequences!. Available as a Blu-ray from Wal-Mart
, a Collector's Edition DVD from Wal-Mart
, a DVD at Amazon.com
, and a blu-ray at Amazon.com
.
Stir of Echoes (1999)
Tom's a regular guy, a utilities lineman, married, with a young son, his wife is pregnant; he hangs out with long-time pals in a Chicago neighborhood. At a party, his sister-in-law hypnotizes him, and he goes into a deep trance. Before waking him, she suggests that he keep his mind open. That night he sees flashes of violence and the ghost of a young woman. His young son, too, is "a receiver," but while the boy is calm and coherent in his conversations with spirits, Tom is confused and agitated. Over time, the young woman's story comes to the surface, and Tom begins a hunt for her body that puts him and his usually understanding wife, Maggie, in grave danger. Available as a Blu-ray from Wal-Mart
, a DVD from Wal-Mart
, a DVD from Amazon.com
or a blu-ray from Amazon.com
.
Other Horror Ghost Movies
1408

(2007)


Alone

(2007)


The Asphyx

(1973)


Bell Witch: The Movie

(2007)


Below

(2002)


Burnt Offerings

(1976)


Candyman 2: Farewell to the Flesh

(1995)


Candyman 3: Day Of The Dead

(1998)


Carnival of Souls

(1962)


Conjurer

(2008)


Cursed

(2004)


Dark Water

(2005)


Dead of Night

(1945)


Dead Silence

(2007)


Death of a Ghost Hunter

(2007)


Don't Look Now

(1973)


The Entity

(1981)


FeardotCom

(2002)


The Fog

(1980)


The Fog

(2005)


Ghost Ship

(2002)


Ghost Story

(1981)


The Ghosts of Edendale

(2004)


Ghosts of Mars

(2001)


Ghost Watcher

(2002)


Ghost Watcher II

(2005)


Ghouls: The Dead Are Waiting

(2007)


Gothika

(2003)


The Gourmet

(1984)


Grave Secrets: The Legacy of Hilltop Drive

(1992)


The Gravedancers

(2006)


The Grudge

(2004)


A Haunting in Georgia

(2002)


House II: The Second Story

(1987)


House on Haunted Hill

(1999)


The Innocents

(1961)


Lady in White

(1988)


The Legend of Hell House

(1973)


Nightcomers

(1971)


The Orphanage

(2007)


The Others

(2001)


Riding the Bullet

(2004)


Room 205

(2008)


Saint Ange

(2004)


Seance

(2006)


The Shining

(1980)


The Shining

(1997)


Silent Hill

(2006)


Sleepy Hollow

(1999)


The Spirit is Willing

(1967)


Stay Alive

(2006)


Stir of Echoes

(1999)


Street Trash

(1999)


Tales of Terror

(1962)


The Terror

(1963)


Tormented

(2009)


Thir13en Ghosts

(2001)


The Unborn

(2009)


What Lies Beneath

(2000)


White Noise

(2005)


White Noise 2

(2007)


With You

(2006)


The Woman in Black

(1989)