Ghost Television Shows
I've tried to make a complete list of all the ghost television programs that are on the air. I have not listed times or days because it seems that it is constantly changing for some of these shows. Instead, I've linked to where you can go to find out more information (such as when it is on). You will also find that shows on cable channels—especially those seen on A&E, Biography, History Channel, Discovery Channel, Travel Channel and TLC—love to jump around. Many shows that are seen on Biography are eventually show on the History Channel or Travel Channel. So, sometimes you need to search for the show, and not search the channel it is usually on.
Fact or Faked
"Fact or Faked" is one of the best paranormal television shows I've seen to date. Although it covers more than just ghost legends, any ghost lover worth his or her salt should watch it. These investigators take footage and attempt to either prove or disprove it using various scientific methods. In one episode they covered a Gravity Hill in Texas and came to same conclusion I did about them. Fact or Faked airs on the Sy-Fy Channel.
Ghost Hunters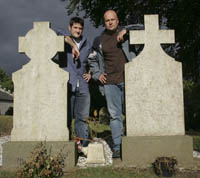 Plumbers and paranormal investigators Grant Wilson and Jason Hawes of The Atlantic Paranormal Society continue to take their workmanlike approach, focusing first on real-world explanations (including plumbing problems and poorly shielded electrical boxes). Read my review of the show. I consider it the best reality-based paranormal investigation show out there, but it is far from perfect. Ghost Hunters is seen on the SyFy Channel.
Ghost Hunters International
"Ghost Hunters International" runs a very similar format to its parent show, "Ghost Hunters," except it ventures to haunted places outside of the United States. Ghost Hunters International can be found on the SyFy Channel.
Ghost Hunters Academy
"Ghost Hunters Academy," which recently concluded its first season, follows TAPS veterans Steve Gonsalves and Dave Tango as they train young recruits. It tries to be a little Survivorish, but falls short. Read my review of the show for more information. Ghost Hunters Academy is seen on the SyFy Channel.
My Ghost Story
I love "My Ghost Story" but then I am biased since I appear in Episode 4 of the show (I'm the brunette that talks about President Polk's Tomb). The show takes footage and presents it at face value, don't expect any debunking of the footage or compelling alternative theories. My Ghost Story appears on the Biography Channel.
Celebrity Ghost Stories
"Celebrity Ghost Stories" combines B-list celebrities with the paranormal. Don't expect to see Tom Cruise or any big names on this show. But you will see some favorites from your past like Dick Van Patton and Lindsey Wagner. The one drawback of this show is it relies entirely on the storytelling and the re-inactments and does not provide any complelling evidence. Celebrity Ghost Stories airs on The Biography Channel.
The Haunted
"The Haunted" visits families who fear that their pets are plagued by spirits. That's right, pets. I'm not sure how they tell (my cat always acts like he sees things I can't) but who knows. It should not be any surprise that The Haunted can be found on Animal Planet.
Ghost Adventures
"Ghost Adventures" follows Aaron Goodwin, Zac Bagans, and Nick Groff as they visit haunted locations around the world. Ghost Adventures can be found on Travel Channel.
Ghost Lab
Brothers Brad and Barry Klinge hunt spirits with their mobile supernatural research center. Ghost Lab can be found on Discovery Channel.
Most Haunted
Most Haunted can be found on the Travel Channel.
Paranormal State
"Paranormal State" follows the investigations of the Paranormal Research Society, founded by Ryan Buell in 2001 as a college club at Pennsylvania State University. His team includes a spacey chick named Elfie, a Russian guy named Sergey, and a revolving door of various psychics and professional exorcists who mix traditional religion and the occult to root out spirits during something they call "dead time." Paranormal State can be found on A&E.