Waverly Hills Sanitarium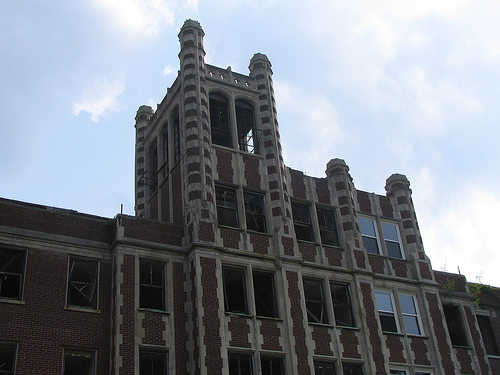 http://www.flickr.com/photos/97964364@N00/ / CC BY 2.0
Waverly Hills Sanitarium was opened in 1910 as a effort to combat Kentucky's tuberculosis death rate (which was the highest in the country). In 1923, the hospital was expanded into the structure that can be seen today. In its heyday, Waverly housed nearly 500 patients. Waverly Hills Sanatorium closed in 1961. It reopened a year later as Woodhaven Geriatrics Sanitarium. Woodhaven remained open until 1981. The structure was abandoned and fell into disrepair. Today, the sanitarium is undergoing major renovations in an effort to restore it.
A portion of a 1931 government documentary featuring Waverly Hills Sanitarium.
Summary of the Haunting
A man in a white coat is seen walking in the kitchen.
The smell of cooking food is smelled in the kitchen and cafeteria.
In room 502, people see shapes moving in the window and hear a voice telling them "get out."
On the fourth floor, people see a figure peeking at them from around corners and see shapes passing back and forth between doorways.
In the "body chute (a tunnel that led from Waverly Hills to the train tracks), people report hearing unidentified noises and voices as well as feeling cold spots.
A young boy named Tim seen on one of the floors.
False Claims
Some people believe that Waverly Hills is so haunted because it had an extremely high number of deaths. In fact, in one episode of Ghost Hunters they promoted the myth that 63,000 people died at the sanitarium. Facts dispute this claim.
Waverly Hills opened in 1926 and had approximately 500 beds. It was opened for 55 years. In order to have a death toll of 63,000 would need a death toll of 3 people a day, every day for this period (1,145 people a year). However, according to Assistant Medical Director Dr. J. Frank W. Stewart autobiography, the highest number of deaths in a single year during the time he worked there was 153. There is also evidence that shows that the death rate at Waverly Hills was approximately 100 people a year, not 1,000. (For more information, check out this page.
Paranormal Investigations
I don't think there is a paranormal investigation team or paranormal investigation show that has NOT been to Waverly Hills. Besides what I've listed below, ABC Family's Scariest Places on Earth, VH1's Celebrity Paranormal Project, a French documentary entitled Soirée de l'étrange, the Syfy documentary Spooked, and a portion of the documentary Haunted have filmed at Waverly Hills.
Books and Articles
Video
Syfy's Ghost Hunters
Travel Channel's America's Most Terrifying Places
a paranormal investigative series called Terror Normal
A live broadcast from Waverly Hills where a ball hits an investigator.
For More Information
Waverly Hills Historical Society, Inc.
4400 Paralee Lane
Louisville, KY 40272
(502) 933-2142