Whaley House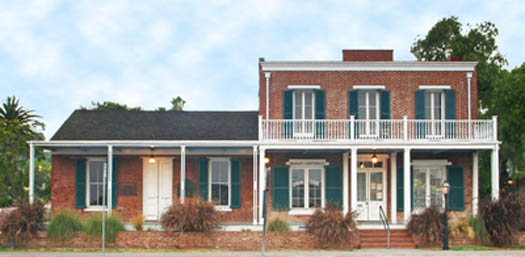 Photo courtesy of The Whaley House Museum
The Whaley House was built in 1857 by Thomas Whaley. He built the house on a site that had once been used as a granary, courthouse and general store. It was also the site where, in 1852, a notorious thief named "Yankee Jim" Robinson was hung. According to legend, it took him forty-five minutes to die as the rope did not snap his neck as it was supposed to. The Whaley's had their own series of tragedies at the place: Thomas and Anna's son died at 18 months of age, a daughter committed suicide and a neighbor girl, Annabelle, died after running into a clothesline and crushing her trachea. The house was eventually converted into a museum which is still open today.
Whaley House is one of the few locations that has actually be classified as "haunted" by the U.S. Commerce Department. It is listed on Time magazine's Top 10 Haunted Places and Travel Channel's Most Terrifying Places in America.
Summary of the Haunting
Whaley House has its own webpage about the ghosts. Some of the ghosts that are believed to haunt the house include:
Organ music is heard in various rooms.
A black rocking chair moves on its own.
Bolted windows open by themselves.
Annabelle Washburn is seen running through the house.
The spotted fox terrier is seen running through the yard.
A young girl is seen lounging in the dining room.
Cigar smoke and perfume are smelled throughout the house.
Yankee Jim appears hanging from the main doorway and is heard stomping through the home.
A well-dressed gentleman stands at the top of the stairs.
A woman in a green plaid gingham dress is seen upstairs.
Paranormal Investigations
Books and Articles
Videos
Ghosts, The Whaley House
For More Information
The Whaley House
2476 San Diego Avenue
San Diego, CA 92110
(619) 297-7511